New marine fire solution for boxships initiative
Roughly one ship a week loses cargo through fire onboard and a new marine fire fighting technology accelerator initiative is hoping to fix it.
Roughly one ship a week loses cargo through marine fire, putting seafarers' lives at risk. It's a problem a new marine fire fighting technology accelerator initiative is hoping to fix.
Table of Contents
Concept
Although industry data is incomplete, there is a broad understanding that on average there is one serious cargo fire a week within the maritime supply chain. Each marine fire, whether small or large, has the potential to cause loss of life and a major maritime casualty.
Now, the world's first industrial safety technology accelerator is joining forces with the world's biggest maritime cargo carriers to launch an innovation initiative to reduce cargo loss at sea through fire.
Safetytech Accelerator, established by Lloyd's Register, has launched a collaborative technology acceleration program, called the Cargo Fire & Loss Innovation Initiative (CFLII), in conjunction with Anchor Partners. It will identify and address key challenges through a combination of thought leadership, road mapping of technologies, and scouting to rapidly identify and pilot high-potential, practical technologies.
Learning from experience
Maersk is one of the partners in the initiative. Speaking to Rich McLoughlin, Head of Maritime Engagement at Safetytech Accelerator, at a webinar to mark the innovation's launch, their Head of Maritime Standards, Aslak Ross, said the key to success will be a better understanding of what is in each and every shipping container that travels by sea;
"We don't want to install equipment that looks good and meets insurance industry expectations and regulatory requirements, but has no real effect. We have to start at the top level of the hierarchy in making sure we don't get dangerous cargo on board. Whatever we do after that is addressing a lower level of the hierarchy. It's important but we need to start at the top level, always."

Aslak Ross, Head of Maritime Standards, Safetytech Accelerator
His organization has direct experience with the consequences of container marine fires. Five seafarers lost their lives when the 15,000 TEU Maersk Honam caught fire in 2018 while crossing the Arabian Sea. The marine fire was caused by sodium dichloroisocyanurate dihydrate cargoes in containers.
Investigations showed that there were no regulatory breaches. This was because the International Maritime Dangerous Goods Code did not factor in the potential thermal instability of the chemicals being transported.
"It was clear from the investigation that everything was in compliance. We need to work beyond compliance, we need to find new solutions and we can't rely on anyone other than ourselves for the industry to make those changes. So, we started looking at how we were organised around our dangerous goods. How we approve it, what processes and systems we have in place to ensure that it is flawless. And then we looked at these tools to scan all our bookings because we believe that the root cause of fires is cargo – whether misdeclared or undeclared, or cargo that is unstable."

Aslak Ross, Head of Maritime Standards, Safetytech Accelerator
Consequently, Maersk introduced technology that allows all bookings to be scanned for potential misdeclarations. Another marine fire prevention method utilized by Maersk is risk-based stowage, a practice that has been adopted industry-wide.
Risk-Based Stowage
Particularly, the Cargo Incident Notification System (CINS) has published safety guidance for the stowage of classified dangerous goods onboard containerships. The Safety Considerations for Ship Operators Related to Risk-Based Stowage of Dangerous Goods on Containerships represents the first in a series of initiatives aimed at enhancing safety onboard containerships.
According to the Guidance, it is recognized that all cargo-related incidents resulting in marine fire and explosions are rooted in cargo problems. Investigations, litigation, and inspections demonstrate various deficiencies relating to cargo presented for shipment including;
Erroneous classification and declaration.
Packing, segregation, and securing not complying with IMDG or not following the CTU Code2.
Packaging not complying with IMDG.
Presentation for shipment of cargo that is not compliant with national and international regulations results in unacceptable risks to all stakeholders involved in the movement of goods.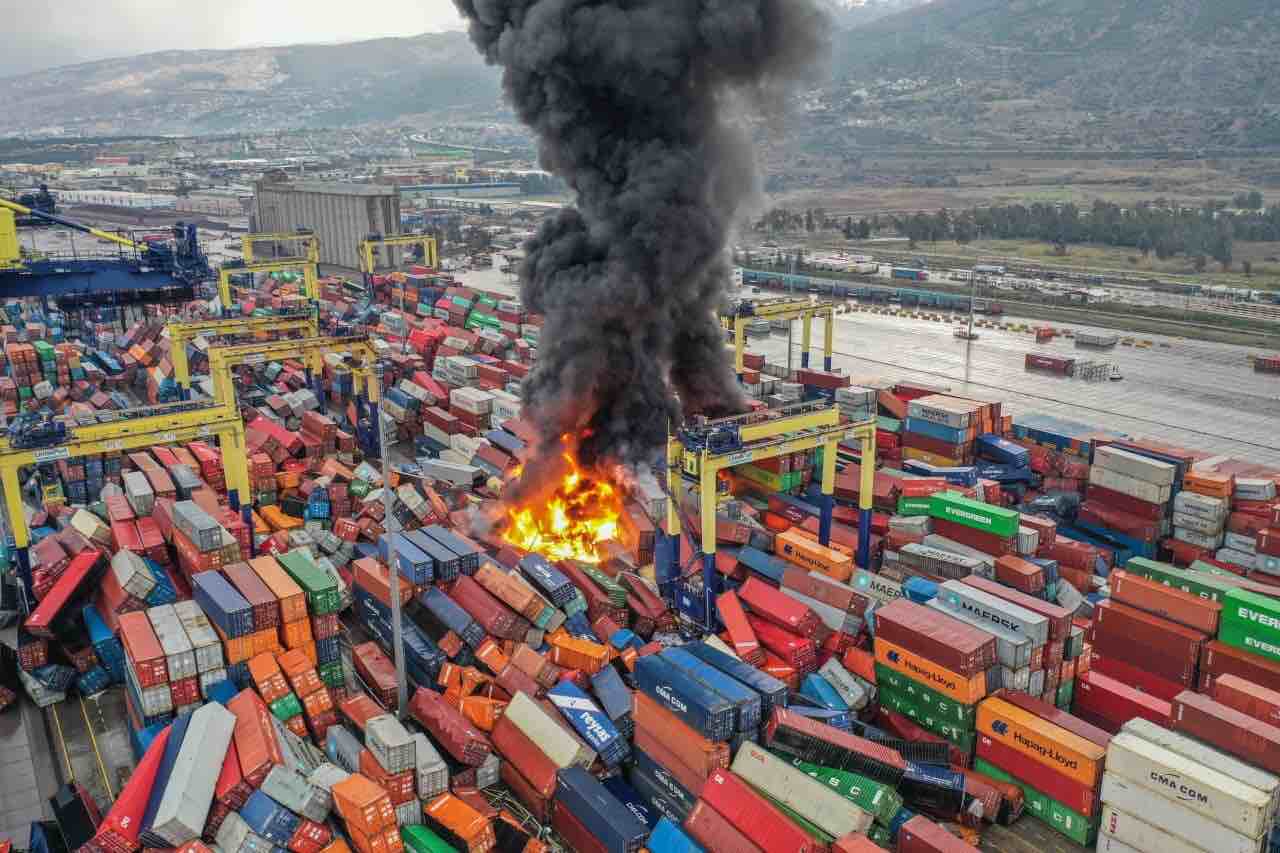 The blaze at Iskenderun Port is under control, three days after Turkey suffered a massive earthquake which has flattened much of the port city with the death toll rising exponentially.
Marine Fire Technology
It's hoped that the technology will provide the answer to reducing marine fires. The Chair of the Cargo Fire and Loss Innovation Initiative, Nick Gross, who is also Global Containerships Segment Director at LR, explained more to the online audience;
"What we're trying to do here is look at innovative technology. There are mechanisms out there for different approaches such as risk-based certification to support new technologies and methodologies. We can help with that, and also in the technology certification process, which is a great way to de-risk new technologies for adoption in maritime. This can lead to approval in-principle, helping establish new solutions in the market, and we have examples that are relevant to cargo fires."

"There's room for technology and a lot of further developments, particularly in the AI space. Early detection, machine-learning on how we detect fires, through sensors, wireless connectivity, whatever can be installed on vessels."

Nick Gross, Chair of the Cargo Fire and Loss Innovation Initiative,Global Containerships Segment Director, LR
Another partner added that the nature of cargo is changing.
"Container fires are more or less the same as 30 years ago. However, there is one type of fire which I believe is new to the industry – those caused by lithium-ion batteries. This changes the threat level dramatically."

Capt. Y.S. Hwang, Head of Operations, Evergreen Line
Stimulating change
The Head of Nautical Department at Offen Group's CPO Containerschiffreederei, Capt. Ortwin Muehr, suggested that insurance premiums be reduced for ships that have advanced technological features, to help stimulate technology development and deployment.
"When you start to invest money in equipment, you increase the safety of the vessels. Insurance companies should consider lowering fees for ships with higher safety standards. This will bring firefighting quality for shipping companies forward, and this will be good for the industry."

Capt. Ortwin Muehr, Head of Nautical Department, Offen Group's CPO Containerschiffreederei
TT Club's Risk Management Director, Peregrine Storrs-Fox, said that screening technologies have made significant strides, enabling liner operators to better understand their shippers.
"Machine-learning is increasingly being applied to particular shipments, as well as enriched data on the nature of the shipper. Fundamentally, this is technology supporting a know-your-customer type of capability. The carriers need to know who they're dealing with in order to have an understanding of the cargo."

Peregrine Storrs-Fox, Risk Management Director, TT Club
HMM is also involved in the collaboration, meaning a significant proportion of the world's container cargo-movers are taking part in the initiative.
Source: LR
See Also
Port operations have been essential to global trade for thousands of years. The earliest seaports were used primarily for fishing and trading but as maritime technology advanced, seaports became increasingly crucial for facilitating international trade. Today, ports are complex logistical hubs that leverage state-of-the-art equipment to facilitate the movement of 90% of goods from loading and unloading to warehousing and distribution.
Learn how the complex logistical hubs leverage state-of-the-art equipment to facilitate container transportation.
Port operations have been essential to global trade for thousands of years. Learn how the complex logistical hubs facilitate container transport.