Maritime Fraud: Identify & Report Illegal Activities Onboard
Discover the dark side of the shipping industry and stay informed about the prevalence and harmful impact of maritime fraud.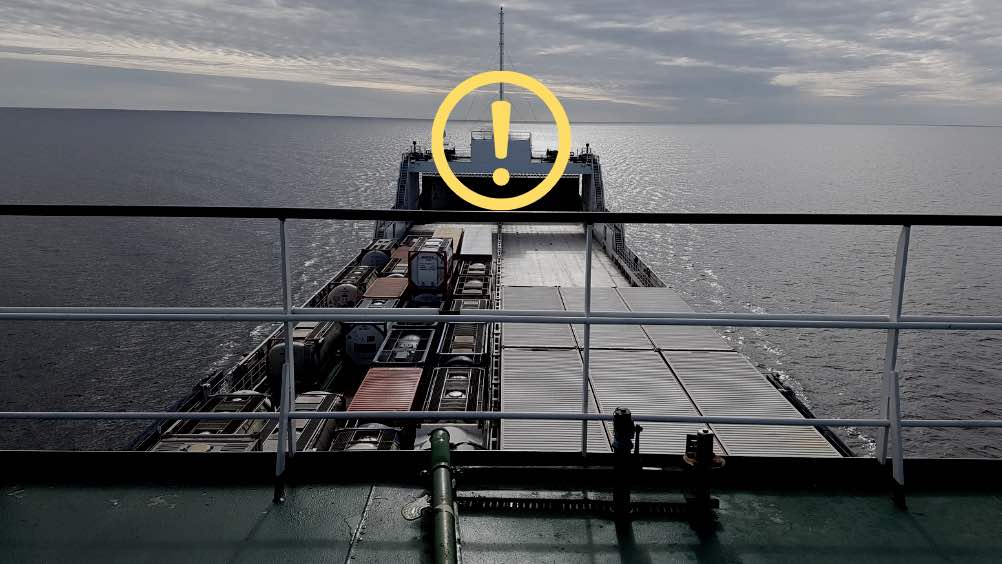 Learn about maritime fraud's ubiquity and the shadow side of the shipping industry. Corrupt people can make life terrible for seafarers by fiddling with supplies and victualing invoices, selling ship stocks, or moving cargo. Learn how whistleblowers, technology, stronger rules, and training can help tackle this problem and avoid harming the reputation of the industry. Keep yourself informed and safeguard yourself against the damaging effects of marine fraud.
Table of Contents
The dark side of the shipping industry
Are you interested in learning more about the shadow side of the shipping industry? As a seafarer, you might have experienced difficulties like food shortages, pay concerns, engine failures, or even being fired by your company. The most common issue on board, though, is maritime fraud. Corrupt captains, chief engineers, and top officers can make life difficult for their crew by working with other shore-based organizations. As a result, maritime fraud—the unlawful or unfair acquisition of products or services from other parties—is frequently the case.
The International Maritime Bureau's (IMB) function
Maritime fraud can happen anywhere, including on board ships, in shipping company offices, and in trading firms that move products. To find, inform, and stop such frauds, the International Maritime Bureau (IMB), a specialized subsidiary of the International Chamber of Commerce (ICC), was established in 1981. The International Maritime Organisation (IMO) has urged governments, organizations, and interested parties to work together and share information to prevent maritime fraud globally. The IMB is a nonprofit organization.
Types of Maritime Fraud
Note that, some of the easily detectable maritime frauds on board include:
Master or chief steward manipulating stores and victualling invoices and sharing the loot with the supplier;
Senior deck officers or ship's crew selling ship stores or cargo;
Senior ship engineers sell bunkers, and substandard machinery spares, and manipulate the shortage through cargo residues on oil tankers;
Senior deck officers manipulating B/L figures;
Ship superintendents acting alone or in liaison with senior deck officers inflating invoices with stores/spares and/or repair work not carried out in repair yards;
Cargo surveyors in liaison with senior deck officers, manipulate daily outturn figures to boost their ratings. (most common on bulk carriers);
Ship manning agents also play a crucial role in committing maritime fraud. They may manipulate the salaries of the ship's crew or supply uncertified crew on board for a lower salary using fake certificates and CDCs.
Agents, stevedores, and suppliers inflate invoices in liaison with senior officers on board;
Senior officers on board alter Oil record book figures to hide deficiencies in ship machinery and pump residues overboard through portable hoses;
Deck officers manipulate cargo figures on oil tankers and pumping residues (diesel) to bunker tanks in liaison with shipowner, and managers;
Ship's crew and/or Master illegally carrying stowaways intentionally or contraband on board;
Insurance frauds committed by ship owners/Managers by manipulating ship records in liaison with ship officers and Master, which may include death on board (Homicides shown as suicides);
The US Department of Justice imprisoned a C. Engineer for discharging approximately 10,000 gallons of oil-contaminated bilge water overboard.
Detecting & Preventing Maritime Fraud
It is essential to remain vigilant and identify other frauds not reported in this article and bring them to the notice of the port authorities. Seafarers have many choices today to collect evidence against fraud committed on board. These include intrinsically safe cameras for hazardous environments and various spy gadgets for indoor use. Moreover, the crew should never get blackmailed or coerced by seniors for environment-related issues. Report quality issues and shortages to the master, and two or more crew members should counter-sign all the invoices.
The Value of Whistleblowers
Whistleblowers are critical in exposing maritime fraud. They give authorities critical information and evidence that can aid in the prosecution of the perpetrators. It is critical to encourage and protect whistleblowers so that they can speak out without fear of retaliation.
Whistleblowers are being rewarded handsomely these days, as in the instance of a third engineer who presented significant evidence to the US Coast Guard years ago, creating environmental contamination. While the chief engineer was sentenced to prison, the junior engineer won a million dollars and US citizenship.
Technology
Technology plays a crucial role to detect and prevent maritime fraud. First and foremost the Automatic Identification System (AIS) is utilized by most vessels. In this regard, the vessel's movements can be monitored and thus identify suspicious activities. Moreover, Blockchain Technology integration in the shipping industry is also assisting in preventing maritime fraud. Particularly, it ensures transparency throughout the shipping process and avoids fraudulent activities.
GSBN partners with Chinese companies to enhance the transportation of chemical cargo safety using blockchain technology.
Regulations Needed
Despite initiatives initiated by organizations like the International Maritime Bureau (IMB), maritime fraud persists as a serious issue. To prevent fraudulent acts, regulations have to be strengthened and implemented more rigorously. To effectively tackle marine fraud, governments, as well as business groups need to collaborate.
Impact on the maritime industry
Overall, maritime fraud not only harm the seafarers who are directly affected but also has a broader impact on the maritime industry. They erode trust and confidence in the industry and can damage the reputation of legitimate players. It should be in the interest of all stakeholders to work together to eliminate fraud from the maritime sector.
Importance of training and awareness
At last, seafarers must be trained to identify and report fraudulent activities. They must be aware of their rights and responsibilities and understand the consequences of participating in illegal activities. Companies must provide regular training and support to their employees to ensure that they remain vigilant and report any suspicious activities.
See Also
Understanding SIF (Serious Injury & Fatality) which includes investigating incidents, near-misses, and hazardous conditions.