First Chinese Rotor Sails Retrofit gives up to 30% savings
A bulker fitted with CMES-Tech rotor sails took to the water at Chengxi Shipyard, marking a solid step forward for wind-assisted technology in China.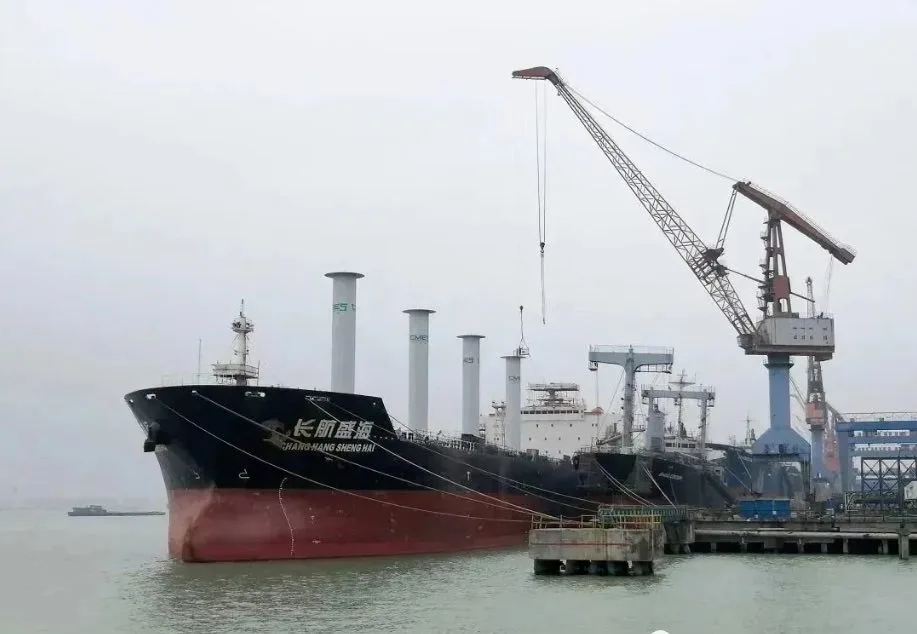 A Chinese-flagged bulker fitted with 4 domestically developed rotor sails by CSSC Shanghai Marine Energy Saving Technology Co., Ltd. (CMES-Tech) took to the water at the No. 2 wharf of CSSC Chengxi Shipbuilding Co., a subsidiary of China State Shipbuilding Corporation, marking a solid step forward in the practical application of wind-assisted technology developed in China.
Table of Contents
Concept
The 45,000 dwt bulker Chang Hang Sheng Hai, built-in 2012 by Bohai Shipbuilding Heavy Industry Co, is owned by Minsheng Financial Leasing and operated by Shanghai Ming Wah Shipping, data from VesselsValue shows.
After 3 years of theoretical research, prototype development and testing, engineering prototype design, manufacturing, installation and debugging, the marine wind turbine rotor project jointly developed by CMES-Tech and several other units has successfully completed the installation on a real ship, and will further carry out proven tests and verification.
The wind turbine rotor is an innovative energy-saving technology with independent structure, simple installation and good prospect. The application results show that the energy saving effect of wind-assisted rotors for bulk carriers and very large crude carriers can reach 5-30%, which is an important technical means to solve the three stages of EEDI. In addition, wind-driven rotor and hydrodynamic energy saving, alternative fuels and other energy-saving emission reduction means can be superimposed, not only energy saving but also emission reduction. This applies to both new-building and operating ships.
NAPA, Norsepower, and Sumitomo analyze the combination of rotor sails with voyage optimization to achieve maximum emissions reduction.
Rotor Sails
The Handysize bulker has been fitted with 4 rotor sails. The installed rotor sails boast a diameter of 3 meters and an overall height of 24 meters, respectively. By incorporating wind-assisted rotors, the vessel is expected to achieve energy savings of over 5% while significantly reducing carbon oxide emissions during navigation.
The rotor sail harnesses wind energy to augment a ship's propulsion and holds great potential for achieving energy savings in bulk carriers and large oil tankers.
Driven by the national agenda of promoting green development and the urgency to enhance energy-saving and emission-reduction technologies in the shipping sector, CMES-Tech has been leading the marine rotor sail development project in collaboration with multiple shipyards.
China's first independent intellectual property rights of wind power booster rotor products. It will not only help the ship save considerable fuel oil, but also effectively reduce the carbon oxide emissions during the ship's navigation.
Source: CMES-Tech
See Also
Last Month, MAST Maritime Services S.A. in cooperation with their exclusive Principals CSSC Shanghai Marine Energy Saving Technology Co., Ltd. (CMES-Tech) held a decarbonization seminar session (Accelerating Change: The benefits of Energy Saving Devices for your fleet) for the Greek Shipping community in Athens on May 25, 2023, followed by a dinner to foster greater interest in energy efficiency improvement, familiarize the participants with the new technological advancements and provide a forum to exchange views on the decarbonization plan of the industry. The midday session was attended by technically oriented executives from reputable ship management and shipowning companies and senior personnel from shipbuilding and ship classification societies.
The decarbonization seminar included a couple of technical presentations through interaction with the participants and case studies on actual existing projects. Discussions revolved around hydrodynamic energy efficiency technologies; innovative Air Layer systems; capturing wind energy; and the methodology to achieve the optimal vessel performance enhancement.
MAST MS and CMES-Tech held a decarbonization seminar session in Athens, Greece to provide insights on the benefits of Energy Saving Devices.