Fuel Gas Supply System (FGSS) – How it works
Everything you need to know about a Fuel Gas Supply System (FGSS): What? Why? How it works? Components and Design
Everything you need to know about a Fuel Gas Supply System (FGSS): What? Why? How it works? Components and Design
Introduction
Nowadays, the existing and upcoming regulations apply particular pressure on ship owners and operators to minimize their environmental footprint. MARPOL Convention has set to Limit the following emissions.
Ozone-Depleting Substances (ODS)
Sulfur Oxides (SOx)
Nitrogen Oxides (NOx)
Carbon Oxides (COx, GHG)
Hence, there are various solutions in the market to assist in the decarbonization effort.
In the process of scheme selection, many factors need to be considered, such as; initial investment, construction cost, operation cost, maintenance cost, loss of cargo space, the convenience of operation and maintenance, emission reduction effect, etc. detailed calculation is needed to compare the results of various schemes. In addition, there are some factors that are difficult to predict at present, such as the convenience of fuel filling and the change of fuel price.
The dual-fuel propulsion and liquefied gas supply system are attractive methods. They can reduce emissions, raise fuel efficiency and power density while maintaining an economical operation.
The possibility to seamlessly transition from gas to diesel operation and vice versa ensures full flexibility in terms of costs and emissions.
Concept
Consequently, LNG becomes increasingly viable and popular as a marine fuel. Hence, the industry players are offering holistic solutions for; comprehensive engines and environmentally friendly fuel gas supply systems (FGSS), offshore and onshore bunkering systems, and stationary distribution systems for regasification or fuel filling – all from a single source.
Note that, FGSS can fit a land-based bunkering station, bunkering vessel, or tank trailer.
Working Principle
Firstly, LNG is loaded to vacuum-insulated storage tanks from the bunker stations. To supply the fuel gas to consumers, a submerged pump in the tank discharges LNG into the vaporizer. The vaporizer uses Water-Glycol and the heat source onboard the ship to complete a heat exchange circuit. Then, the pressure and volume of natural gas are regulated by a Gas Valve Unit (GVU) before the final supply. GVU, is a vital component that connects the FGSS and engine.
In case of an emergency pressure spike inside the LNG tank, the safety valve will automatically release the pressure. Thus, ensuring the safety of the crew and equipment.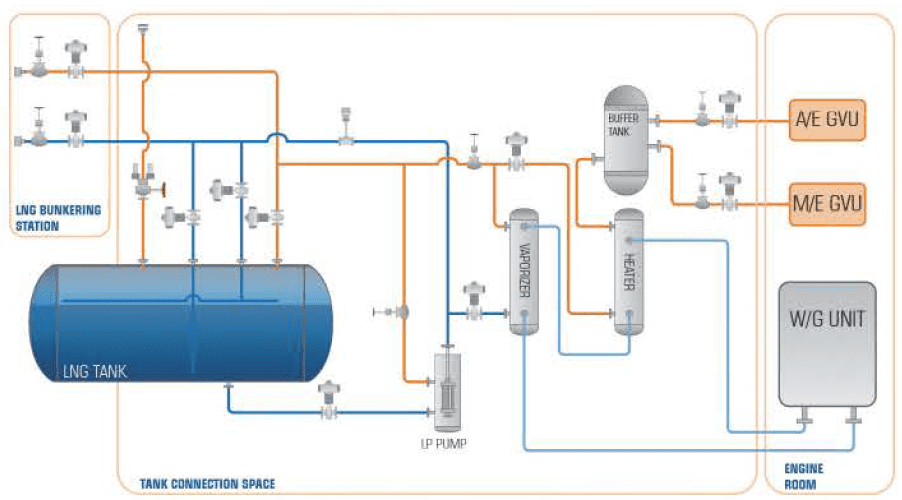 Design
Moreover, there are various designs available, from pre-set off the shelf units. However, some systems excel with the customized and modular design. Hence, provide an optimized layout based on the internal space of existing vessels.
Additionally, storage tanks should be designed and manufactured according to IGF, IGC, and Class regulations on low flash point fuel transport and powered vessels for all types of ships. With CAE Aided Lightweight Design, to optimize the balance between tank weight and thermal insulation while ensuring the best reliability.
Key Benefits
Clean burning gas, fewer NOx emissions
Increased fuel efficiency
Lower operating costs
Flexibility and fuel independence
One point of contact for all components, training and support
Cases
Mitsubishi Heavy Industries (MHI) Group has secured its initial order to deliver LNG (Liquefied Natural Gas) fuel supply systems (FGSS). They will apply on high-pressure dual-fuel marine engines. Particularly, the proposed systems will serve onboard 6 LNG-fuelled car carriers where Imabari Shipbuilding Group will construct the newbuilds.
Headway OceanGuard FGSS has obtained the AiP certification issued by DNV, RS, BV, ABS, RINA, and NK. Additionally, it is the first in the industry to obtain the Functional Safety Certificate.
MAN Energy will install their FGSS system with 2 x 500m3 vacuum-insulated tanks on a newbuilt passenger vessel for TT-Line Germany. The delivery schedule is for 2022 in Jingling Shipyard, China.
Nerd Thoughts
Regulations can only get more strict and challenging for shipowners and operators. Therefore, the Nerd suggests investing in long-term, sustainable and flexible solutions to achieve freedom from compliance.
The subject FGSS solutions are one method to get away from the upcoming regulations while they hold the potential to pay back their capital in a short period. Nevertheless, the technical managers should pose great attention when selecting a particular system. Hence, it is not suggested to go with the cheapest option available since it will risk the operation of a vessel while it may endanger the crew.
---
References